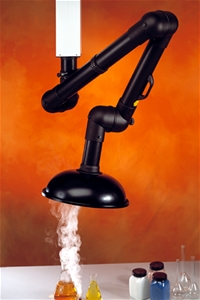 Suction arm with Ø100 mm radius. Designed for environments where 140-400 m3/h air flow rate is sufficient.
System 100- Anode Aluminum Air Suction Arms can be used in environments with large scale pollution sources, where aggressive chemicals are used intensively. They offer ideal solutions with highly aggressive chemical resistant polypropylene joints and pipes, as well as many size and air suction hood options.
System 100 - Antistatic Air Suction Arms are approved for ESD and explosive environments (ATEX).
ESD and EX approval by DELTA Denmark and BAM Germany.
In ATEX environments, spark-free, therefore EN 1127-1 5.3 "Mechanically generated sparks" compliant, acid-resistant stainless steel connection parts are used.