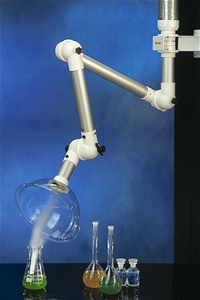 Suction arm with Ø50 mm radius. Designed for environments where 45-85 m3/h air flow rate is sufficient.
System 50 - Anode Aluminum Air Suction Arms can be used in environments with limited scale pollution sources such as the electronics industry, school laboratories, dental clinics and laser applications. They offer ideal solutions with many size and air suction hood options.
System 50 - Antistatic Air Suction Arms are approved for ESD environments.