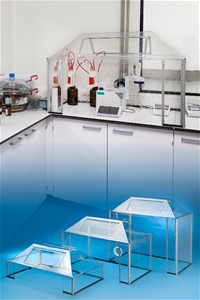 Work cabins are used for polluting processes in laboratories, offering affordable alternatives in situations where high functional ventilation options such as fume hoods are not needed.
Easily installed on work benches, the cabins are connected to air suction systems for isolating emissions, preventing their dispersal in the workspace and creating a clean working environment.
Cabins are mode of PETG material with high chemical-resistance, B1 Class low flammability, up to 90% light transmittance and high resistance against impacts and cracking.
You can choose from 3 models with different dimensions and shapes according to your work process.