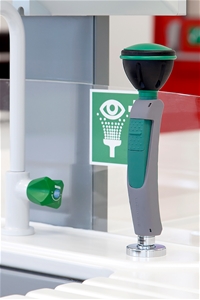 Emergency eye showers are obligatory for laboratories where chemicals are handled and other workspaces that pose similar risks.
They are crucial in first response to accidents where the eyes of an employee might be harmed, to minimizing possible injuries caused by the accident.
According to the EN 15154-2:2006 standard, eye showers must have the following specifications:
- Minimum 6 liters per minute flow.
- Minimum 15 minutes of uninterrupted flow.