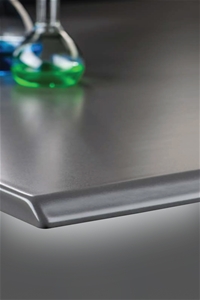 FRIDURIT® Modular Technical Industrial Ceramic Benchtops are DIN EN 14879-6 (chemical technical ceramics standards) compliant, 20 mm thick, one-piece, without raised edge and manufactured with 900 x 1800 mm maximum measurements.
They are resistant to all chemicals except HF, to corrosion by high concentrations such as solvents, aqua regia, hydrochloric acid, sulfuric acid, nitric acid, sodium hydroxide etc. and heat, long term chemical contact, color pigments and oils. They are scratch, fire and impact-resistant.
Perfect scratch resistance (Mohs Hardness Scale 7) prevents any marks of usage. They can be properly cleaned without damaging the work surface.
FRIDURIT® Modular laboratory benchtops can be used against walls or on island benches. It is an effective and economic choice that offers high performance under harsh conditions.
They can be manufactured in various sizes and colors.
Test
Criteria
Unit
Result
Standard Deviation
Density
EN 993-1
g/cm³
2,37
0,00
Cold Pressure Resistance
EN 993-5
MPa
159
25
Bending Resistance
EN 993-6
MPa
41,3
0,6
Static Flexibility Value
EN 993-6
GPa
39
1,3
Heat Conductivity
EN 821-2
W/mK
1,57
-
Thermal
Diffusion Coefficient
DIN 51045-2
10 K
a(25-400) : 5,6
a(25-800) : 5,9
a(25-1200) :6,3
Corrosion
DIN 52108
cm³ / 50 cm²
8,5
0,3
Hardness
DIN 101
-
6-7
Stain Resistance
EN ISO 10545-14
Category 5
Crack Resistance
EN ISO 10545-11
No cracking on the glaze surface on the ceramics.
Chemical Stability


G: Glazed Plaque


L: Interaction with
Low Acid
Concentrations


H: Interaction with
High Acid
Concentrations


A: Classification, No Effect
EN ISO 10545-13
NH

4

Cl
GA
NaClO
GA
HCl 3 Vol- %
GLA
HCl 18 Vol- %
GHA
KOH 30 g/l
GLA
KOH 100 g/l
GHA
C6H8O

7

GLA
C

3

H

6

O

3

GHA