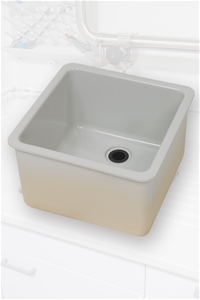 Just like benchtops, laboratory sinks are essential components in every laboratory and they must be resistant to the acids, bases and solvents that are used in the laboratory. FRIDURIT® laboratory technologies offer technical ceramics or polypropylene laboratory sinks that are custom made according to your specifications.
Technical ceramics is a high performance material resistant to splashes, spills and similar incidents that are likely in a modern laboratory environment.
Polypropylene one-piece sinks on the other hand are especially suitable for microbiology laboratories due to their seamless surfaces.
FRIDURIT® laboratory sinks can be used in every school, university and industrial laboratory by all customers with a wide variety of color choices and sizes.
Test
Criteria
Unit
Result
Standard Deviation
Density
EN 993-1
g/cm³
2,37
0,00
Cold Pressure Resistance
EN 993-5
MPa
159
25
Bending Resistance
EN 993-6
MPa
41,3
0,6
Static Flexibility Value
EN 993-6
GPa
39
1,3
Heat Conductivity
EN 821-2
W/mK
1,57
-
Thermal Diffusion Coefficient
DIN 51045-2
10 K
a(25-400) : 5,6
a(25-800) : 5,9
a(25-1200) :6,3
Corrosion
DIN 52108
cm³ / 50 cm²
8,5
0,3
Temper
DIN 101
-
6-7
Stain Resistance
EN ISO 10545-14
Category 5
Crack Resistance
EN ISO 10545-11
No cracking on the glaze surface on the ceramics.
Chemical Stability


G: Glazed Plaque


L: Interaction with
Low Acid
Concentrations


H: Interaction with
High Acid
Concentrations


A: Classification, No Effect
EN ISO 10545-13
NH

4

Cl
GA
NaClO
GA
HCl 3 Vol- %
GLA
HCl 18 Vol- %
GHA
KOH 30 gr/l
GLA
KOH 100 g/l
GHA
C6H8O

7

GLA
C

3

H

6

O

3

GHA