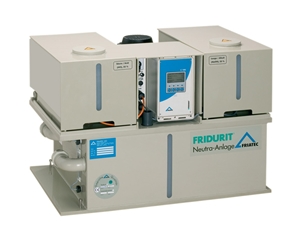 FRIDURIT Neutralization Devices are designed to safe, fast and automatic neutralization of all acidic and alkaline liquid wastes of laboratory processes at the emission source. These compact, fully automatic and maintenance free devices comply with quality standards and are tested for efficiency and quality.
They can be mounted inside fume hoods or under benches to bring the pH level of hazardous chemical wastes within legal limits before they are discharged into the sewage system, and they protect the infrastructure. Quiet operation provides a safe working environment, contributing significantly to environmental health.
FRIDURIT Neutralization Devices comply with DIN EN ISO 9001 and DIN EN ISO 14001 standards that apply to this product group.
HOW DOES THE NEUTRALIZATION SYSTEM WORK?
NEUTRALIZATION DEVICE
Applications
Can be used inside fume hoods, under benches
or as a free-standing unit.
Materials that can be used
(On surfaces that contact the environment)
Polypropylene, Polivynl Chloride (PVC) Polytetrafluoroethylene
(PTFE) and Ethylene Propylene Diene Monomer (EPDM)
Neutralization Performance
Max. 200 l/h (Depending on the contamination level of the waste water)
Capacity:
Mixing Tank
Approx. 90 l
Acid Tank
Approx. 25 l
Alkali Tank
Approx. 25 l
Dimensions and Weight:
Width
850 mm
Depth
570 mm
Height
620 mm / 640 mm
Empty weight
55 kg
Controls:
Power Source
Three phase 400/230 Volt, 50 Hz, 3L/N/PE, 0.55 kW.
pH Measurement
High resistance voltage measurement,
Measurement range 0-14 pH, Precision 0.1 pH
Alarm Contact
Voltage-free contact,
max. 250V AC, 2A, max. 50V DC, 2A
Temperature Range
+5 - +35 °C