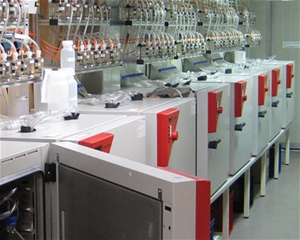 DR. ING. RITTER Milligascounters are central components in biogas research experimental setups for many different types of samples.
The system setup, which is easily adaptable to research processes and can be expanded to 16 units including fermentation bottles inside the oven, measurement devices, connection modules and software that data is transferred to, provides automatic measurement and real-time data.
The maximum precision needed for a research is guaranteed for 8 or 16 separate setups simultaneously and with real-time data flow.