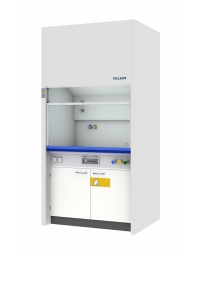 Certified Acid Fume Hoods that comply with TS EN 14175 standards must be used in laboratories where aggressive chemicals are put through processes such as melting and boiling. These fume hoods are specially designed for acid and alkaline applications with corrosion resistant inner walls and internal parts.
TOLKİM Acid Fume Hoods are manufactured with 2400 mm height and 1200 mm / 1500 mm / 1800 mm width and they are installed with standard air flow unit. This allows the air suction performance to be measured.
Acid Fume Hoods have melamine inner walls with ceramic and/or polypropylene coating, ceramic benchtop, water fixture, ceramic sink, power outlet, scaffold rods holders and light fixture. Different power, water and gas fixtures can be added to the system.
Due to its double telescopic frame, the front window does not rise above the height of the hood when fully opened. It has a good field of view and two side sliding windows. Lower cabinets can be arranged as chemical storage cabinets such acid-base or solvent cabinets.
They can be combined with an Acid Wash Device and Neutralization Device.
1200
1500
1800
Dimensions
Width external / internal [mm]
1200 / 1156
1500 / 1456
1800 / 1756
Depth external / internal [mm]
935 / 750
935 / 750
935 / 750
Height external / internal [mm]
2400 / 957
2400 / 957
2400 / 957
Working height [mm]
900
900
900