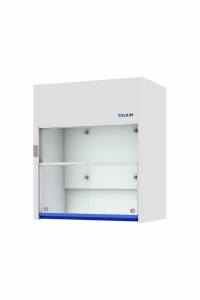 Certified Bench Top Fume Hoods comply with TS EN 14175 standards and are designed for general purpose laboratories.
TOLKİM Bench Top Fume Hoods are manufactured with 1400 mm height and 900 mm / 1200 mm / 1500 mm / 1800 mm width, and they are provided with standard air flow unit. This allows the air suction performance to be measured.
Bench Top Fume Hoods can be mounted on existing benchtops or can be provided with a 750 mm deep benchtop if there is limited available space. The top of the fume hood is built similarly to the standard TOLKİM Fume Hoods.
900
1200
1500
1800
Dimensions
Width external / internal [mm]
900 / 868
1200 / 1168
1500 / 1468
1800 / 1768
Depth external / internal [mm]
750 / 650
750 / 650
750 / 650
750 / 650
Height external / internal [mm]
1400 / 1200
1400 / 1200
1400 / 1200
1400 / 1200