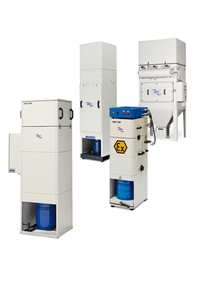 Dust is unavoidably released in production process that use powdered materials and processes such as grinding or filling. This is also true for sawing, grinding or abrading stone, wood or metals. Fumes and gasses usually accompany these dusts.
The ASD Series Suction and Filtration Systems protect employees and the working environment with their specially designed gas and vapor decontamination and elimination equipment, as well as reducing operating costs by protecting your equipment from harmful emissions.
Three Different Harmful Effects of Gases and Vapors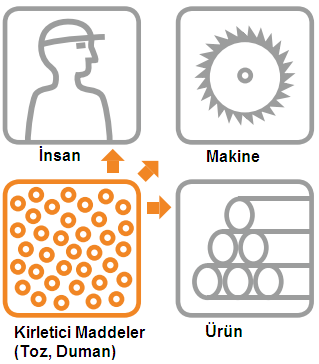 The dusts that are released by processes such as grinding, abrading or filling can have toxic and even carcinogen effects on lungs.





The smaller the dust particles, the higher are their impact. Smaller particles can reach the alveoli in the lungs and lead to irremediable damage. Additionally, grimy films that are created on the machinery and the products can cause serious damages.







Applications: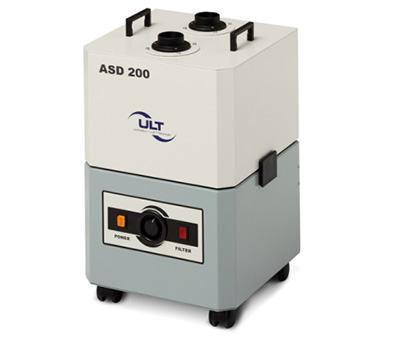 Grinding, carving, abrasion, cleaning, transfilling, polishing etc.
Specifications:
Mobile unit with wheels,
Quiet modular design,
Easy to use and easy to replace filter design,
Electrostatic paint coated stainless steel body,
Front panel control elements,
On and off button.
Volume Control: Allows gradual adjustment of the suction capacity.
Filter Capacity Gauge: Provides optical monitoring for particle filters.
Technical Specifications:
Device version
ASD 200 MD.14
ASD 200 HD.10
ASD 200 HD.12
Max. air flow
m³/h
635
210
220
Max. suction power
Pa
3,200
20,700
22,000
Min. capacity
m³/h/Pa
250/2,200
120/13,000
120/12,000
Dimensions (WxDxH)
mm.
390 x 400 x 600-1,300*
(*Height according to filter use)
For more information on suction filter equipment and custom solutions for your needs, contact us.