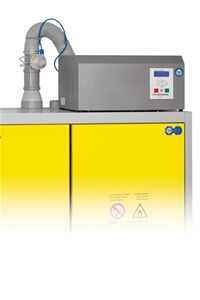 Monitored Filter and Fan Module
Monitored ventilation systems which use molecular absorption to filter solvent (hydrocarbon) originated hazardous vapors inside safety cabinets up to 100%.
Filter systems do not require an additional ventilation connection and are easily mounted on cabinets.
They offer optimum protection and safety for employees and the workplace.
Monitored Filter and Fan Module
Air flow rate can be easily adjusted to the dimensions of the safety cabinet.
TÜV SÜD certified in compliance with the 2014/34/EU (ATEX) directive.
100% efficiency with to the highly activated carbon filters, in compliance with the DIN EN 779 directive.
The volumetric air flow rate inside the safety cabinet can be constantly monitored with the air flow sensor.
Audio and visual alarm can be set for air flow rates below designated levels.
Annual maintenance dates can be configured and filter renewal dates can be monitored according to DIN EN 12927 and EN 13463 directives.
Easy to install and ready to use.
The fan unit has low noise levels in compliance with the DIN EN 14986 directive.
Continuously monitored air discharge system in compliance with the DIN EN 1946-7 directive.