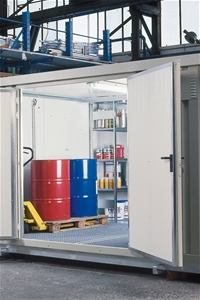 Deutsches Institut für Bautechnik (DIBT) approved.
Chemical resistant coated, galvanized steel casing.
Inner walls, ceiling and doors made of insulated panels.
Leakage collection grid floor and leak-free inner panels.
Ambient temperature control with air conditioning system and ex-proof or standard ventilation options according to the type of chemical to be stored.
Single or double winged doors, delivered ready to use, in different sizes.
Color options.