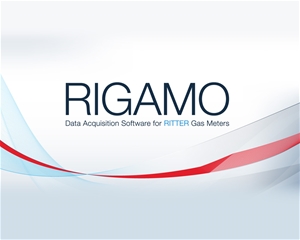 Specifications:
Rigamo Windows software systems allow you to measure gas volumes and flow rates up to 24 RITTER gas meters and send the measurements to the computer.
It supports multi-core processors.
You can view the data in a table and a graph.
It stores the data.
You can print test parameters in diagrams or tables, one by one or in combinations.
You can export the stored data to Excel (Excel 2003 or higher).
Errors in dynamics (depending on the flow rate) are automatically corrected.
System Requirements
Computer connection terminal (pulse generator) including gas meter.
Digital input module "DIM" (accessory).
Software security license for connection points (for connecting gas meters.)
Operating System: Windows® XP / Vista / 7 / 8 / 10
Microsoft Excel® 2003 or higher for exporting data.
Recommended processor speed: 1.5 GHz
Cache access (RAM): 500 MB
2 USB ports (one for data input, the other for security device licenses).
Screens are 17'' and allow 1280 x 1024 pixel or higher resolutions.