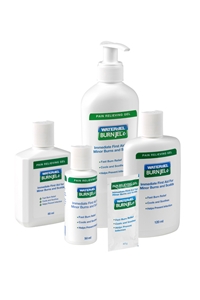 WATER-JEL® is a special cooling gel. It reduces pain, cools the skin and protects from airborne infections. It stops the progression of the burn if it is applied fast enough.
Unlike petroleum-based products that trap the heat in the skin, WATER-JEL® Burn Gel draws the heat out of the burn and starts dissipating it. The burn gel has the same technology as the burn blankets and other burn dressings, therefore showing the same cooling and pain-relief effect on minor burns. WATER-JEL® Burn Gel is offered in single dose packages, bottles and pumped dispensers.
WATER-JEL® burn gel can be used for all types of burns (heat, steam, electrical, flash, explosion, radiation etc.)
A thick water-based gel that stays on the burn and disperses the heat.
Prevents bacterial growth due to its bacteriostatic nature.
Easy to apply due to the preservatives and densifiers it contains.
Tested on white phosphorus.
Material safety data sheet, CE certificate and FDA approval available.
Widely used in the US and Europe for medical purposes.