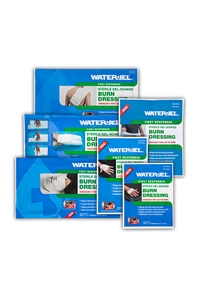 With a new and transparent design, Water-Jel® emergency dressings are the most effective choice for emergency and burn care professionals. Water-Jel® reduces the temperature and the degree of burns quickly and effectively. Water-Jel® has been the most known and approved product used both by professional medical teams and for daily accidents for more than 30 years.
Water-Jel® dressings can be used for all types of burns (heat, steam, electricity, flash, explosion, radiation etc.)
Gel soaked, sterile, medical type polyester dressing.
Cools down the burn, reduces pain, stops the progression of the burn and protects against airborne infections.
Does not irritate eyes, mouth and nose.
Foil packed in 6 different sizes.
5 years of shelf life.